Welcome to Doggie Day Camp Cardiff
As we are super busy at the moment, please send us an email rather than calling our phone!
Doggie Day Camp offers a unique daytime dog care service where we will collect your dog from your home and drop them back when the day is over. Our day care staff are fully insured and qualified with professional experience working with dogs and other animals, so you won't need to worry leaving your furry friends with us!
Your dog will spend their days socialising with friends and we can guarantee your dog will enjoy every moment! Dogs are treated with the utmost care and attention at all times and are always briefly cleaned down so you don't have to worry about muddy footprints.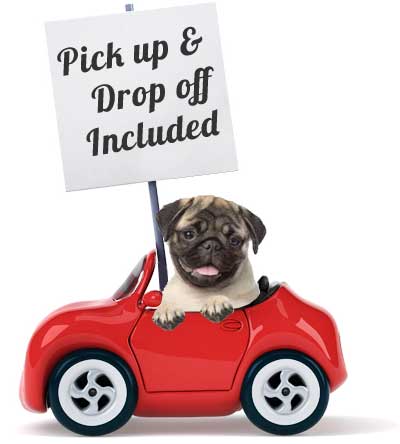 About our company
We know that owning a dog is a life-changing experience and an amazing adventure. We pride ourselves on our love for the animals and we will do our best to help you in having a healthy and happy relationship with your dog, lasting years.
No one wants to see a beloved canine companion lonely at home whilst you're busy at work or away from home. We thrive on the happiness of dogs when they are with us at Doggie Day Camp– socialising, exercising, playing – simply being dogs! Just wait until your dog comes back home – you will see for yourself!
You may be thinking about getting a puppy but you work long hours Monday to Friday. Early socialising with other dogs is very valuable for your puppy's development and social stimulation –Doggie Day Camp is the perfect place for that! You will witness your puppy growing into a sociable, friendly, healthy and fit dog.
Why us?
We will pick up your dog from your home and deliver them safely back at the end of the day ourselves
From 12 week old pups to golden oldies, as long as your dog is sociable and friendly they can join the camp
We are fully insured with specialist animal trade insurers
The camp relieves boredom, separation anxiety, and destructive behaviour at home
We are a family owned business with staff members who do the job for the wholehearted love for dogs!